OPTIMA - Ø17 CASSETTE ROLLER BLIND
The classic solution of a cassette roller blind, which is one of the most popular roller blind systems. The Optima system allows the production of standard, day-night roller blinds and roller blinds with distance profile.
Smart design enables fabric winding up to 44 mm in diameter. Additionally, the cover cassette, equipped with a holder for fixing the day-night fabric, provides comfort in the confectioning and assembly of the product.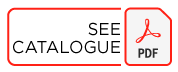 Discover our other roller blind systems
Our offer includes a wide range of fabrics for roller blinds.